Blu-ray Discs from Professional Label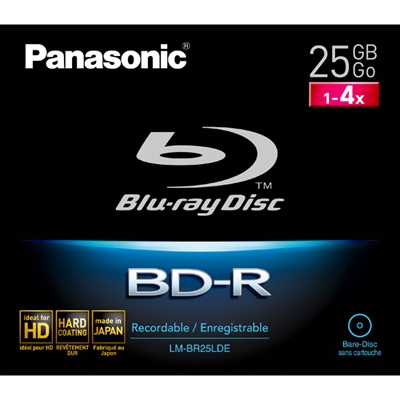 Panasonic Blu-ray Discs 1 - 4x! Above item LM-BR25LDE now in stock
Call 301-570-0774 for more information about Blu-ray Discs, Blu-ray Case Inserts and Blu-ray Cases.
Many other Panasonic Blu-ray discs are available as well. Panasonic Blu-ray Inkjet printable discs coming soon...
Write-Once Blu-ray Disc- single 25GB Single-sided, Single-layer Write-Once Blu-ray Disc with 4x writing speed!
Panasonic introduces the world's first 4x write-once Blu-ray Discs, The 4x speed performance can easily handle large amounts of data, including high definition content, with a maximum data transfer speed of 144 Mbps. That means a 1GB folder can be copied in just one minute, while a DVD-RW with 2x speed needs six minutes. And with Panasonic's phase-change recording technology, you get precise and stable recording even when writing at 4x high speed. Great for HD or archiving data.
TDK Blu-ray Discs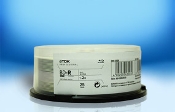 TDK Blu Ray Disc 25GB Inkjet Printable BD-R 25 discs.
White inkjet printable surface, hub printable. Sold only as 25 disc spindle. 2x speed.
Item #: BD-R25PWX25CB
TDK and Panasonic Blu-ray discs can be
ordered online at www.prolabel.com or www.professionallabel.com
or by phone at 301-570-0774
or by fax at 301-570-0776
or by email at prolabel@msn.com
Professional Label accepts Visa, MasterCard, American Express and PayPal
Return to www.prolabel.info
Copyright 2008 Professional Label, Inc.